This article contains information for both old Stable Alert and the new version released 8/24/2021
Update 1/24/23-In addition to being able to add horses, trainers, and jockeys to your stable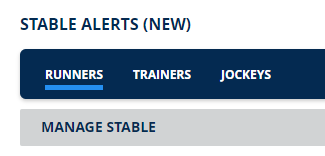 You will now be able to add horses even if they are not running.
This works like the old stable alert.
Type the horse's name in you want to add, then select them from the list
Make your notes (if any), and click the add button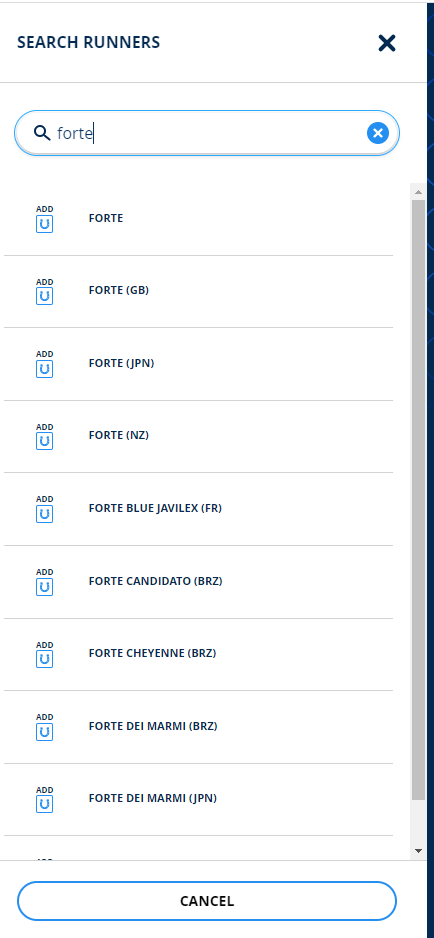 What are NEW Stable Alerts?
NEW Stable Alerts will allow players to add their favorite runners to a Stable directly from the Twinspires wagering interface, eliminating the need to navigate to a different platform to add favorite runners to a Stable and manage preferences.
Stable Alerts allows you to add a favorite horse to your Stable so you can be notified when and where that horse is running so you can watch it run.
Are NEW Stable Alerts a replacement for OLD Stable Alerts?
NEW Stable Alerts is not immediately going to replace OLD Stable Alerts. For players that currently utilize OLD Stable Alerts their Stables and Notification Preferences will not be changing. As we continue to build out NEW Stable Alerts we will be retiring the old system in the future.
How will I get notified when my horse is running?
When you login and a runner in your Stable is entered in a race for the day you will receive a notification upon logging in. You will also see a horseshoe icon in Today's Races and the Track Dropdown for any race that has a Stabled runner entered in it. You can visit your Stable Management page to view all runners in your Stable including a section for all runners that are entered for the day where you can quickly navigate to their races and place wagers.
We will continue to build out the NEW Stable Alerts to include more types of notifications, including email notifications as users of OLD Stable Alerts are used to.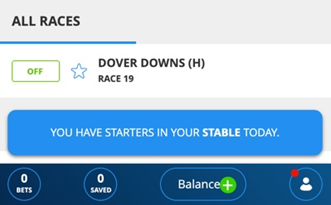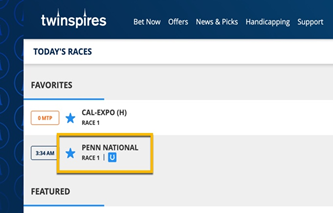 What devices can I manage my Stable from?
NEW Stable Alerts can be managed on both desktop and mobile browsers. Management is not yet available within the native applications.
I already have horses in my OLD Stable Alerts. Will my Stable be automatically migrated into NEW Stable Alerts?
No. The horses in your OLD Stable Alerts will not automatically be migrated into NEW Stable Alerts.
How do I add runners to my Stable and manage them?
From the Program select the name of the runner that you would like to add to your Stable. This will expand the runner to show the Runner Details. The "Add To Stable" button is located in the upper right corner of the Runner Details.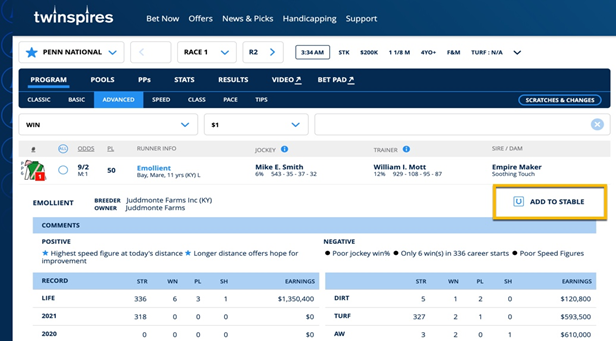 You can add notes about the horse before adding that will be visible to you on the management page. These notes can be edited at any time.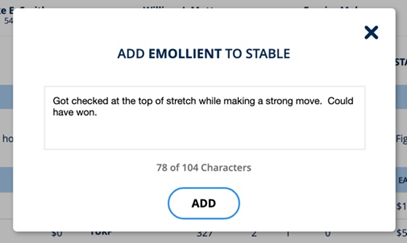 You can manage your Stable by visiting NEW Stable Alerts in the Account Management menu. From here you can visit the program of any horse running today, edit notes of any horse in your Stable or remove horses your Stable that you no longer wish to follow.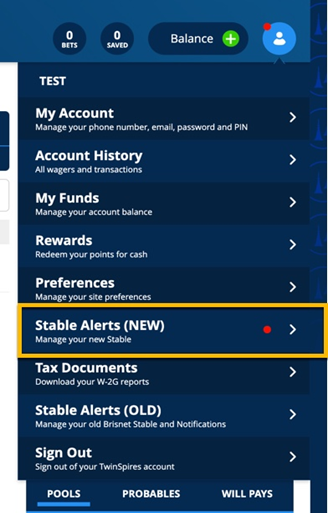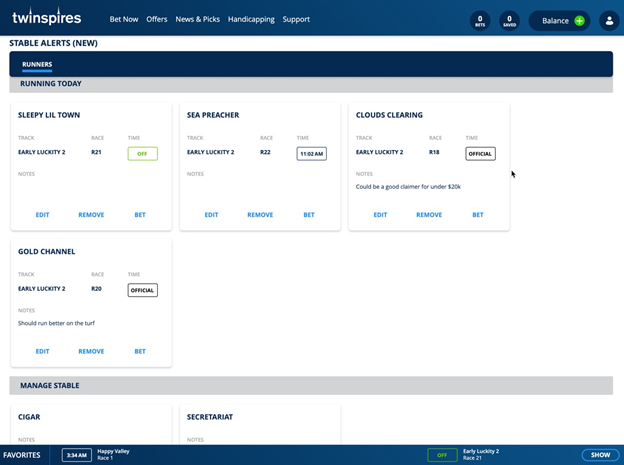 *******Old Stable Alert********
How many horses, trainers, or jockeys can I add?
You can add as many as you wish. There is not a limit.
How will I get notified when my horse, trainer, or jockey is entered?
You will receive an email on the time frame you selected in options. The email will be sent to the email address you have on file with us.
How can I be sure I have my correct email address on file?
You can see (or change) your email address for Stable Alerts only by clicking on "options", then adding the email in the space provided. If you have changed email addresses, you will also want to change this for your account as well by clicking on "My Account" rather than Stable Alert from the user icon. You can then change your email address by clicking on the pencil.
How can I change the options or notifications I have selected?
To change any of your notifications for Stable Alert, open Stable Alert and click on the "options" tab. You can change the type of alerts you receive, the frequency, or even add or change emails. When you have made your changes, click the "Save Changes" button at the bottom.
I am not receiving my Stable Alert emails. What can I do?
First, check your spam or junk folder. For AOL/Yahoo email, it can sometimes go into your "Bulk" folder. Please note that the "Bulk" folder may not appear on mobile devices. If you still do not see the email, check your settings in "options". Make sure you have an email address selected. The circle located AFTER "active" is the one that will need to be selected. If you have the circle BELOW "Active" selected, you will need to change it.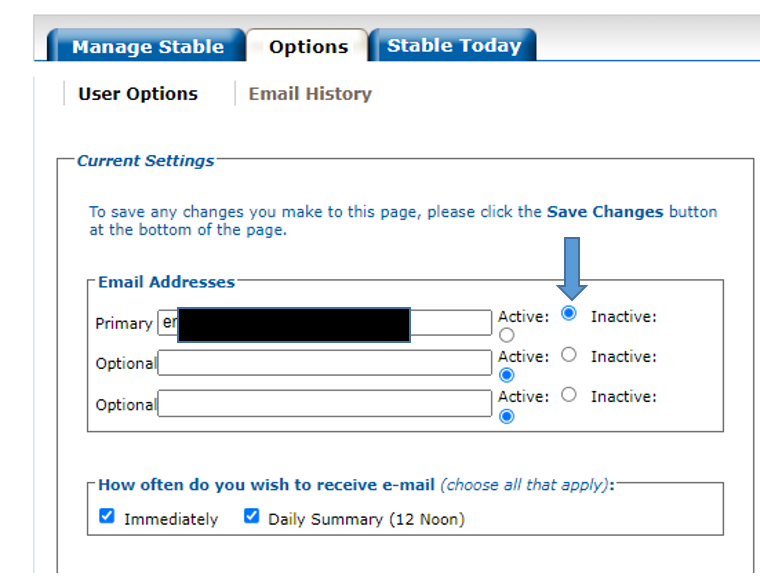 If your email is active, next click "Stable Today". If you see the horse listed here, this means an email was sent for this horse. In this case, your email provider may be blocking the emails from even reaching your inbox. We recommend adding another email address that is not with the same email provider. For example, if you are not getting an email with an AOL email address, try adding a Gmail email address. You can also look at the "Options" tab, then click "Email History". You can also resend the email by clicking the email symbol on the left under "actions".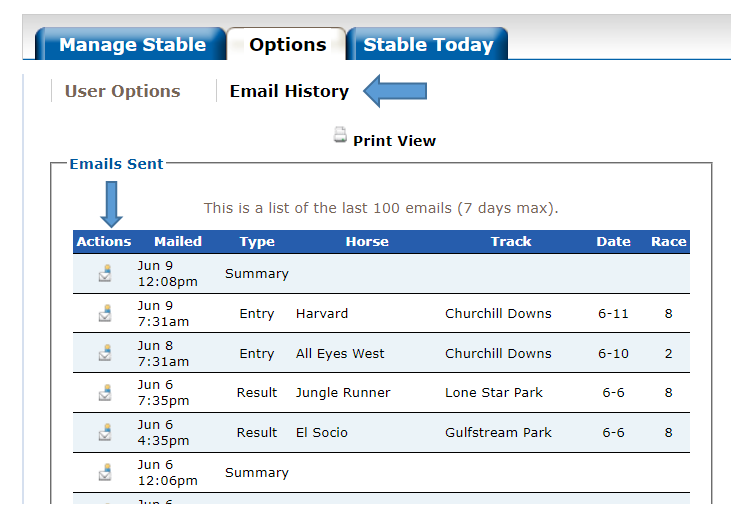 When I try to access Stable Alert, all I get is a white page. How can I access Stable Alert?
If you get a blank or white page when accessing Stable Alert, likely something is blocking it. This is usually a pop up blocker or an extension such as an ad blocker.
To disable your ad blocker extension, click on the icon for the ad blocker and disable it. Click HERE for more information.
Click HERE for more information on how to turn off the pop up blocker.
I am trying to add a horse to my Stable Alert and it does not allow me to add the horse. It is not listed. How can I get the horse added?
Stable Alert works from the official registration of the horse. Everything needs to be spelled and spaced exactly as it appears on the registration or you may not be able to see the horse listed. For example, if you typed A. P. Indy, you would not find him listed. This is because officially, he is registered as A.P. Indy. One space in the wrong place can make a horse not appear on the list.
What is Stable Today?
Stable Today allows you to see all of the horses you have entered for the next few days. Once the track has posted entries for that date, they will be available in Stable Today. Click on the date you wish to see entries for.